The Wherries - Singapore 2002 to 2004
---
Scotland is without doubt one of the most beautiful countries in the world. However, it could benefit enormously by having a roof built over it to keep out the incessant rain! The other alternative in January is to visit Singapore, while the 'home-folk' shiver in deepest winter or continue trying to conceal themselves somewhere in our suitcases afore we go. It was a pleasure for us to be invited back again to enjoy the friendship and hospitality of the community, and perform at the St Andrew's Society Burns Supper in the Tanglin Club and Tavern in Singapore City.
Our thanks go to the St Andrew's Society for inviting us back again, and special thanks to Frank and Linda Boyland for arranging our itinerary and for looking after us so well during our stay. Photos and more information about what we got up to on the 2004 tour, including our day swimming with the dolphins, can be seen by going to Singapore 2004
---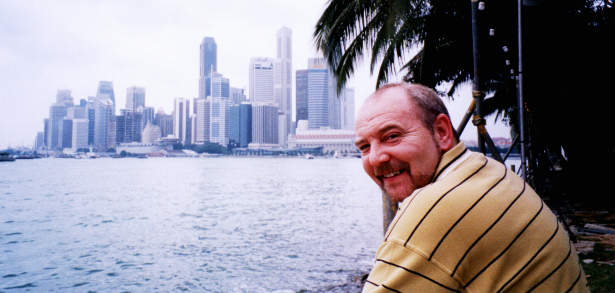 Kenny admires the view across to Singapore City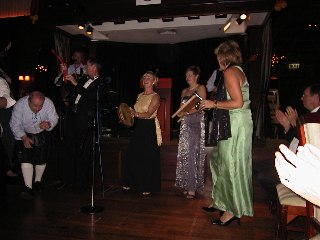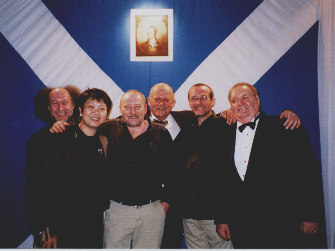 The Wherries 'backing-band' giving it 'laldie' and Sharon, Tommy and Harry of the Sportsman's Bar with The Wherries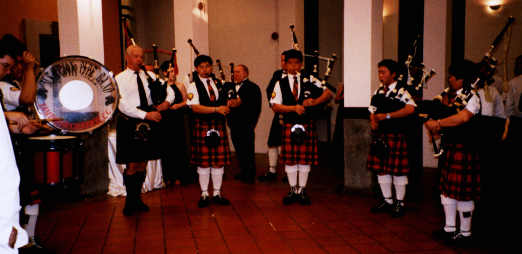 The Merlion Pipe Band playing at the Sportsman's Burns Supper 2003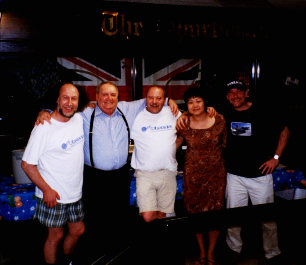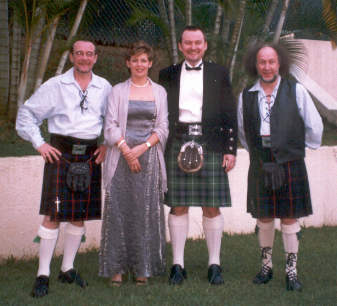 Harry & Sharon of The Sportsman's, and Linda & Frank Boyland - our hosts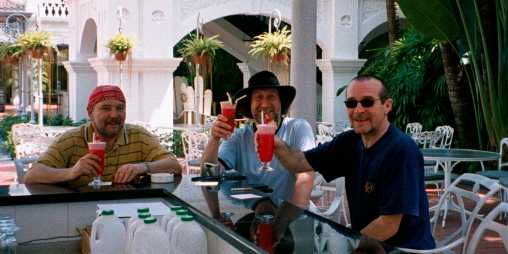 Ken, Dave and Bob enjoying a 'Singapore Sling' at Raffles Hotel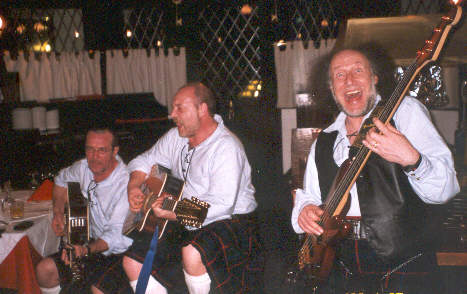 The 'after supper impromptu' in the Tanglin Club Tavern

The Wherries with Linda and Frank Boyland of Port Glasgow, and Gerry Higgins, the Singapore St Andrew's Society 2002 Chieftain, at the Tanglin Club Burns Supper, - January 2002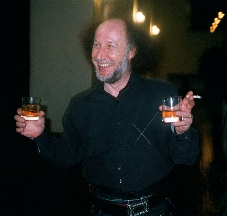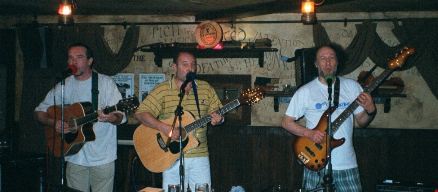 Dave "two drinks", and the band playing at "Muddy Murphy's" Irish Pub - Singapore
Thanks to all for the 'evidence'!
---