The Wherries - Texas Tour 2002
---
This page is dedicated to our tour of Texas in February 2002, where we wish to thank everybody we met during our time there for their kind hospitality, assistance and goodwill, which was outstanding in every way.

Texas - we thank you.
---

Texas - the Symmetrical Tour. This was the 'other half' of the tour we embarked on with the Southwest Symphony Orchestra through the UK in May 2000. In Texas, we started with a 'live' performance on Austin's KUT FM radio to promote our concerts with the Orchestra. The first of these was held in the magnificent One World Theatre in Austin, an international centre for fine arts. Our main performance was the 'Presidential Concert', held in the Evans Auditorium at the Southwest Texas University in San Marcos. We also had a 'Wherries Night' in a Saloon called 'Austin Street Live' in the City of Seguin. All performances were extremely well attended and most enjoyable for us to play at. During the show in Seguin, we were made honorary citizens of Seguin by the City Mayor, and presented with the 'Key to the City'! After the Concert in San Marcos, we were presented with official certificates, declaring us all honorary Texans. An honor that we will cherish for many years to come.

We have declared Professor Howard 'Shuggy' Hudiburg an 'Honorary Wherry'.

---
The Wherries - at 'The Alamo', and the One World Theatre - Austin


Bob, Ken and Dave rehearsing with the Orchestra, and the Hudiburg family


"Home, home on the range", with the 'Cowboys'


Dave, with The Orchestra "Bass Section"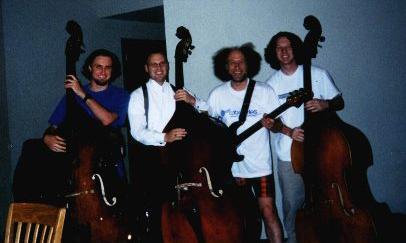 ---