Scottish music videos by The Wherries
---
There were four Scottish music videos of The Wherries. The first - "Cruising at Crinan" - featured the historic and beautifully restored steam 'Puffer' VIC 32 as she made her way through the wonderfully scenic Crinan Canal on the Scottish West coast. The 'VIC 32' is one of the last 'sea-going' coal-fired steam ships of it's kind in the world. The Crinan Canal can give safe passage to small boats wishing to avoid the dangerous tidal waters around the Mull of Kintyre. Superb Scottish scenery and 17 favourite folk songs included. This was a very enjoyable video for us to make.
The next one, - "Frae Midges tae Mosquitoes" - was filmed in Florida, U.S.A. This video shows the band 'out and about' on the beaches, visiting the 'Kennedy Space Center' at Cape Canaveral and taking in the sights at Disney World. The main part of the video is in 'concert' format, filmed in the magnificent Henegar Civic Theatre in Downtown Melbourne.
Our collaboration with the Southwest Texas Symphony Orchestra produced the third video. A total departure from the normal 'Wherries' genre produced a stunning combination of 'Folk' and 'Classic'. "It was really nice for us to have a '65 piece backing band' to play along with". This was filmed in Greenock's Town Hall during our Millennium Y2K UK tour with the Orchestra.
The last video was "Home And Harbour". This is the fourth and most colourful to date.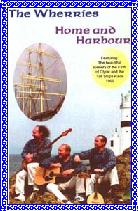 Please e-mail info@wherries.co.uk for availability
---