Scottish Folk Music - The Wherries - The Band
---
Scottish Folk Music fans see The Wherries as one of the most popular and sought after Scottish Folk bands, not only in Scotland, but also in venues around Europe, the USA and Singapore in the far east. If you have not yet witnessed any of the band's performances, here are some photos to get you started. You can use the revolving logo at the top right of any page to take you back to the site index at any time.
| | |
| --- | --- |
| | |
| The Wherries | As they are now |
There once were three Wherries but sadly, in 2007 our third member - Robert - died suddenly after a period of illness.
| | |
| --- | --- |
| The Wherries at the World famous Cloch Lighthouse | Greenock Town Hall concert |
Below, The Wherries - on the Isle of Jura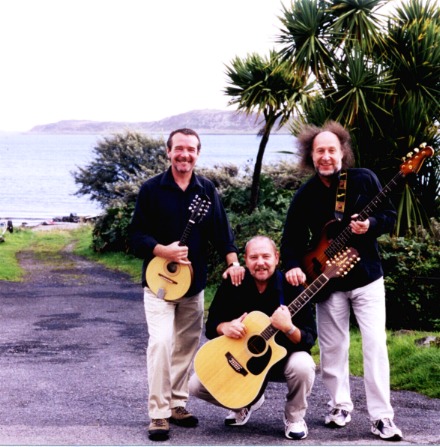 The Wherries, with Alison McNeill and Corina Platt, play at 'Sea-Trek' - 2001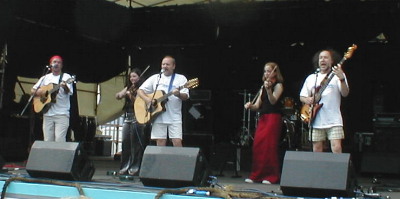 The band name is a reflection of the flat-bottomed gaff-rigged river boats known as 'Wherries' that plied the River Clyde between the 16th and 18th centuries before the current deep-water channel to Glasgow was dredged. As an alternative to the stagecoach, these vessels journeyed between Greenock and Glasgow and carried a mixed compliment of passengers, cargo and livestock. The captain and his mate would entertain the company by singing songs, telling tall tales and occasionally leaping off the boat as it ran aground on one of the numerous sandbanks on the river. Often, passengers would be required to assist in pushing the boat off the sandbanks. It is recorded that a great assistance in undertaking such a journey was to have a drop or two of whisky. After much merriment, some even managed to finish the journey!
A Wherries live performance is a wee bit like that!
---