Kenny Wilson 10th August 2005
---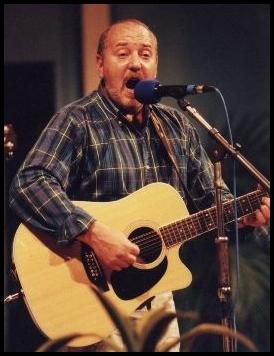 12 String Acoustic Guitar
Bohdran
Vocals
---
Dave and Robert or back to pictures of the band.
---
Profile
Kenny first took to the stage in the late 1960's where as a 13 year old he performed to his first teenybopper audience and lived to tell the tale. Since then, music and performing has been in his DNA.

Kenny always had a passion for folk music and being a member of the Scout Movement would be seen leading many a session round the campfire. He also had a love of the comedy which he attributes to his father who as a foreman riveter had the magical gift of Clydeside humour, patter and song. With his pop / rock days firmly behind him in the late 70's, Kenny formed a folk duo with an old Scout pal Peter Linning (who incidentally was Dave's brother in Law)... They were called 'The Swampies' and for around 7 years were popular in the West of Scotland folk scene. Peter being a young University Lecturer moved to Aberdeen to work and so ended the 'Swampies' (Peter was an outstandingly gifted musician and singer and is sadly no longer with us and is greatly missed).

Having a few local gigs to fulfil, Kenny recruited Dave Currie (Bass) and another old Scout mate Robert Platt (Guitar / Lead vocals). They, along with Kenny fronting the band with his patter and 12 string guitar, formed The Wherries in 1986. The trio went on to be one of Scotland's favourite folk acts. Again tragedy struck in 2006 when Robert became ill and unable to perform. Kenny temporarily took on Lead Vocals, but sadly their great pal Robert did not recover and was lost to the band and the folk community.

The Wherries now a duo, further gained in popularity and have recorded many albums and videos along with performing all over the world and featuring in various broadcasting and prestigious events.

Kenny started his working career as a Ship's Design Draughtsman and then Technician Instructor (Scott Lithgow Training Centre). After gaining a double degree in Industrial Management he became a Production Manager in the Hi Tech Industry (with National Semi Conductor, then Compaq Computers). He turned fully professional in the folk and entertainment business in 2010.

Always one to keep busy, Kenny has life-long association with Scout Movement where he has been a leader for over 40 years, served as the District Commissioner and for many years produced the highly acclaimed Greenock Gang Show. In November 2014 Kenny was awarded the premier adult Scout award 'The Silver Wolf' for services to scouting of the most exceptional nature.

Kenny is a family man and was married to his late wife Janet for over 30 years. He has a grown up son and daughter and his first grandchild was born in 2014. Kenny is also a popular after dinner speaker and show producer. He includes his other hobbies as sailing, along with suffering and supporting the Greenock Morton F C.
---