Robert Platt 10th August 2005
---
It is with great sadness and regret that we have to inform you of the death of our dear friend and band member, Robert Platt. Bob died on the afternoon of 29th October 2007 after a period of illness from which he never recovered. Bob was only 52 years old. As the band's lead singer and main guitarist for the last twenty-one years, he will be sorely missed by Ken and Dave and indeed, all his fans world-wide.
Rest in peace Bob
---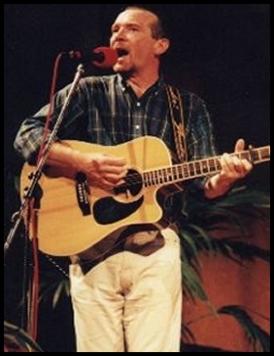 Acoustic Guitar
Mandolin
Harmonica
Bohdran
Lead Vocals
---
Dave - Kenny or pictures of the band.
---
Profile
Robert Platt (or Bob to the band) first became interested in Folk music singing and playing as a teenager around campfires in the Scout Organization, in fact that is where he first met Kenny. Indeed both of them were still involved in the Movement up until Bob's premature passing, and always enjoyed a good old 'Ging Gang Goolie' on occasions!!!!!
Robert was a founder member of the Inverclyde Folk Club and actively participated in its organization. He was also a keen visitor to folk festivals where he was ever up for a 'session' and liked nothing better than to learn new tunes and songs from all over the world.
As the baby of The Wherries and lead singer, he played guitar, mandolin, harmonica and boharan. Bob considered himself as 'The Faceless One', as he said after overhearing someone refer to the band........ "Ah ken the front-man Kenny - he's the guy wi the patter that jumps up an' doon........ and there's that mad fella' Dave, the wan wi' the cheery face and the electric hair do........ there's another bloke as well.........." that's me !
Robert was a keen outdoor man and a qualified instructor in hillwalking and climbing. Still having had an association with Scouting, he enjoyed camping, pioneering and orienteering. He was a keen photographer of Scottish scenery, was married with two daughters and lived in sunny Greenock.
---